Reza Reza no Mi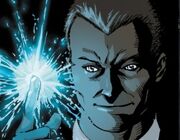 Japanese Name:
(japanese kanji)
English Name:
Meaning:
Type: to emit lasers from one's body.Paramecia
Power:
Eaten By:
Story / Creator:
Introduction
Edit
Appearance
Edit
Users with this ability can fire power beams of energy from their body wether it be from their feet, hands, eyes or mouth. The user could even conserve the energy and use for a physical means. i.e. focus energy on hand but not releasing it the user can do a Energy Punch and much more.
Strengths
Edit
Weaknesses
Edit
The user suffers from standard Devil Fruit weaknesses.
External Links
Edit