Neko Neko no Mi, Model: Byakko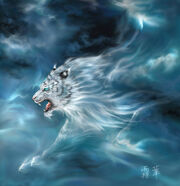 Japanese Name:
猫-猫の果物、モデル: 白虎
English Name:
Meaning:
Type:
Power:
Eaten By:
Story / Creator:
Introduction
Edit
Appearance
Edit
The fruit's major strength, as demonstrated by any user of this Devil fruit, is that its user gains more physical strength in their hybrid and full tiger forms, equivalent to that of an actual tiger and more. Their half tiger form is extremely large because it increases their original height and mass by a great degree. Any fighting styles and abilities that require physical strength, are greatly enhanced by the power of the fruit.
Also, considering this this the mythical Byakko, and not the average tiger; it can be assumed that the overall abilities of this tiger is more powerful then an average tiger.
Strengths
Edit
Weaknesses
Edit
The user of this Devil Fruit suffers from standard Devil Fruit weaknesses.
Byakko is one of the four symbols of the chinese constellations. Along with Seiryuu, Susaku, Genbu.
External Links
Edit