Fuin Fuin no Mi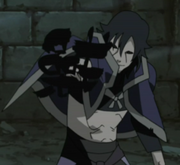 Japanese Name:
(japanese kanji)
English Name:
Meaning:
Type:
Power:
Eaten By:
Story / Creator:
Introduction
Edit
Appearance
Edit
Allows the user to do many different things depending on the kanji he or she writes out on things ,the air for example, with their hands such as create fire, or sending the word to attack a target.
Strengths
Edit
Weaknesses
Edit
The user suffers from standard Devil Fruit weaknesses.
Based on move's in naruto mostly, and other place's I get influence's.
External Links
Edit